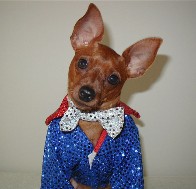 Many people we meet express the sentiment that I am well dressed wherever we go. Ever since I was a wee bit of a pup with very large ears, Mom has found clothes to dress me for all occasions. Not only do I have clothes but jewelry, costumes and props for tricks. And before you ask…yes, I love it!
It all started out rather harmlessly with some coats and sweaters bought at local Dog Boutiques but before long, Mom went just a bit overboard! We have traveled to many places and everywhere we go, Mom is on the lookout for the new and different.
Last year, when we were in Canada visiting our friends, Mom's friend, Sharon, took us to a wonderful fabric store and some hours later and $142.00, you should see the great fabrics and trims we bought! The only problem is that Mom does not sew. Minor things go to the tailor but we have a great friend, Lynn who has become my courtier working with Mom designing and producing my custom clothes. If you visit my bone entitled "pictures", many of the outfits are custom designed for me by Lynn.
In addition to my clothes, Mom and her friend Sharon are on the lookout for anything they can use for a prop for tricks. Often I select my own prop (see bone entitled tricks where I remove the label from a seltzer bottle). You would be surprised at what a little imagination will do. Who knows, one day you may see me on television doing some tricks!